Continua kids is a holistic center providing medically supervised therapies, early intervention programs and support for children with unique needs.
What is speech therapy?
Speech therapy is a corrective treatment for physical cognitive deficits resulting in difficulty with verbal communication. It includes working on both speech and language. Depending on the nature and severity of the disorder, treatments may range from physical strengthening exercises, repetitive practice and activities and use of audio-visual aids.
Who is a speech Therapist?
Speech therapist in Delhi are speech language pathologist who are trained to  assess, diagnose, treat children with speech, language, cognitive-communication, voice, swallowing, fluency disorders. A speech language pathologist is a person with Bsc/ Msc in speech & language.
When does a child need speech therapy?
A child who cannot produce speech sounds, or cannot produce them clearly;
Children who has problems with speech rhythm and fluency, such as stuttering;
child with voice disorders, such as inappropriate pitch ;
A child with problems with understanding and producing language;
child with cognitive communication impairments, such as attention, memory, and problem solving disorders.
Kids with swallowing difficulties.
The above mentioned difficulties can occur as a result of developmental delays, neuro development disorders, learning disabilities, Chromosomal disorders, cerebral palsy, cleft palate, voice pathology, mental retardation, hearing loss, stroke, brain injury or emotional problems. Problems can be congenital, developmental, or acquired.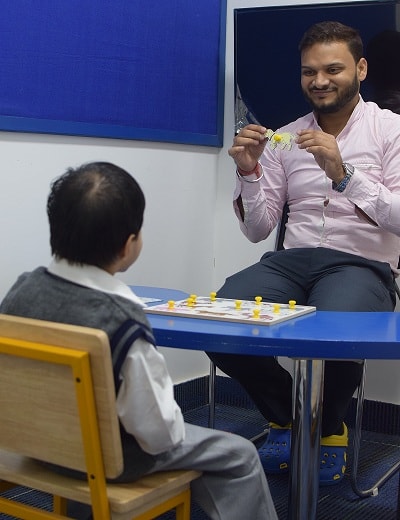 How do they work at CONTINUA Kids?
Speech therapy centre in Noida at Continua Kids is done by well trained Speech therapist who work along with developmental Pediatrician, psychologists, and other therapists. They use qualitative and quantitative assessment methods, including standardized tests, as well as special instruments, to analyze and diagnose the nature and extent of speech, language, and swallowing impairments. Speech therapist in Noida develops an individualized plan of care, tailored to each patient's needs.For individuals with no speech capability, speech therapist may select alternative communication methods, including sign language, and teach their use. home. Speech therapist keeps records on the initial evaluation, progress, and discharge of the child.
4 Tips for Speech Therapy at Home
Encourage conversation: Have regular storytelling sessions with your child. Instead of asking him a  Yes or No question, think about asking open-ended, thought-provoking questions such as, "What would you do if you saw a great big cow in your backyard?" By asking questions that elicit a detailed response, you are encouraging your child to express his or her ideas without the fear of being right or wrong.
Teach them to Listen carefully: Try using Telephone as a tool to teach your child to listen to your words and relate them to another person. Have all the family members and your child sit in a circle. One person whispers a word to the other and that person whispers that word to the next person. The goal is to end up with the same ending phrase as the starting phrase.
Reading: Reading out to your child is one of the most important things you can do with your child. Ask questions about the pictures, encourage your child to point at items on each page. For a little older child you may ask your child to think of experiences that they may have. All these activities shall help your child make connections with whatever they are hearing all day long
Make it FUN: Children learn best when the experience is fun and interactive. The child may not respond so well if they find the activities boring and "homework" like.
Speech Therapy for Children Gurgaon